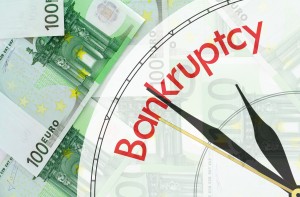 When a business is facing a financial disaster, bankruptcy might be the only means of keeping the business alive. Business owners will have a number of bankruptcy options at their fingertips. Contrary to what some may believe, there isn't simply one commercial bankruptcy option available. The following will discuss alternative bankruptcy options and which ones might be right for your business.
If your business is suffering, you may want to consider filing for Chapter 7 bankruptcy. Chapter 7 is often referred to as "liquidation bankruptcy." Under this bankruptcy option, a business will be required to sell off all eligible assets in order to cover their debt. Chapter 7 bankruptcy can give a business the opportunity to restructure and stay afloat. Unfortunately, there are a number of strict requirements a business must meet to be eligible for this option.
Chapter 13 is the next Commercial Bankruptcy option that may be available to you. However, just like the previous option, Chapter 13 bankruptcy has certain guidelines all eligible businesses should meet. For instance, the business has to be run by individuals and not a corporation or an LLC. Second of all, there are debt limits that must be met as well. If a business owes too much secured or unsecured debt, they won't be eligible to file for Chapter 13 bankruptcy.
Chapter 11 bankruptcy is usually the option businesses turn to when the previous options aren't available. If your business is owned by a corporation or LLC, Chapter 11 might be your best bet. Under this option, your business will have a chance to stay open as long as you agree to a strict reorganization plan. Still, your business will continue to be followed closely by a trustee appointed by the courts. If you don't follow the reorganization plan, your business could be in jeopardy.
These are just a few of the commercial bankruptcy options available for businesses facing financial disaster. Again, if you qualify for Chapter 7, be prepared to part ways with much of your assets. If you owe a limited amount of debt, then filing for Chapter 13 might be a good plan as well. Finally, for those businesses owing an obscene amount of debt, Chapter 11 bankruptcy is always available.